by Joe Carr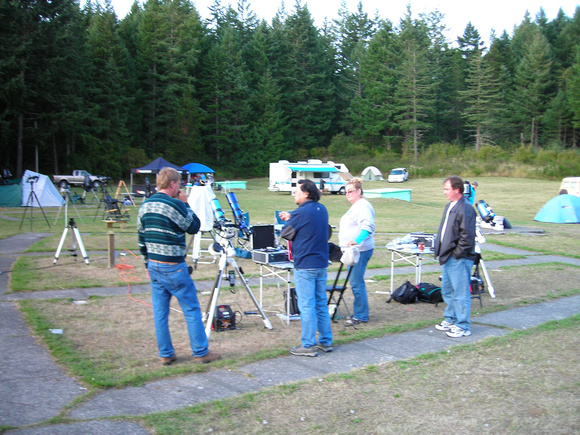 The 8th Annual RASCALS Star Party held August 29-31, 2008 is now but a fond memory. We have staged this event each year for the last eight years at the Victoria Fish and Game property atop the Malahat. The weather for this year's event was the best we've experienced for several years; attendance was very strong; and I think everyone went away happy. I certainly enjoy myself at these events, and really appreciate having a star party that is so close to home. We had a terrific selection of door prizes to give away, thanks to Island Eyepiece and Telescopes, and our corporate supporters Pacific Telescope (Skywatcher) and Celestron.
Our speakers were excellent. Frank Younger spoke Friday evening on how to get more out of our telescopes. On Saturday afternoon, Bill Huot reviewed how binoculars can be used for astronomical observing. Dr. Laura Ferrarese described her work on super massive black holes, and how the upcoming surveys of the Virgo Cluster will advance our knowledge of how galaxies work. The enthusiasm that our speakers have for their respective subjects is something you have to be there to experience. Astronomy is such an interesting hobby (and vocation) - it provides us with endless enjoyment!
I would like to thank Bruno Quenneville and Nelson Walker for organizing this year's event. The behind-the-scenes work involved in staging a star party is considerable. All our star party volunteers deserve our thanks, and the additional support from members of the Cowichan Valley Starfinders group is always appreciated.
The other big event that happened this summer was the Victoria Centre Observatory Official Opening held August 18, 2008. This opening ceremony marks the culmination of a project that took us a year and a half to complete, and is a dream come true for many of our members. I think it is especially significant to our longer term members, who know that for decades an observatory to call our own was only an unfulfilled wish. We thanked everyone involved in this project, because without their support there would not be a Victoria Centre Observatory.
I was pleased to see so many people turn out for this informal event, and help us celebrate our achievement. As with the Star Party, Bruno Quenneville was instrumental in seeing this project through to completion. As our Project Manager, it was his job to coordinate our volunteers, ensure materials were purchased and delivered, and he even brought lunch to our volunteers from the local Tim Horton's! The support of the National Research Council made this project possible, and our corporate partners donated significant amounts of materiel and labor without hesitation. This project is a credit to the astronomical community here in Victoria, and will serve our members and the public well over the coming years.
Participating in two such significant events over the summer has made 2008 memorable for me as your President, however it is time for me to step down and become your Past President. My two year term is over when our Annual General Meeting is held this November. I have enjoyed leading Victoria Centre, and took pleasure in meeting so many of you. I'm looking forward to resuming a lower profile as your Webmaster, and devoting a bit more time to my family. Nominations are open for several positions on our Council, so please seriously consider volunteering some of your time to support our Centre over the next year or two. Succession is always a time when we are a bit apprehensive, but it is also necessary to ensure an organization remains healthy and vital. Please contact any current Council member, should you have questions or want to volunteer. You can do a little or a lot, but please participate!